Welcome to the Protection of the Blessed Virgin Mary Ukrainian Catholic Parish in Vancouver, BC.  Known as St. Mary's, ours is a  church in the Byzantine Rite. The Parish is part of the Ukrainian Catholic Eparchy of New Westminster  and is administered by  Father Serafym Grygoruk,  O.S.B.M.
Divine Liturgy Schedule   (Catholic Mass)
Sundays
           8:30 am  (partially sung – English and Ukrainian)                         10:30 am (sung – Ukrainian)
Weekdays      
 8:15 am Divine Liturgy  
First Friday    
  8:15 am  Divine Liturgy
                           followed  by Moleben  to the Sacred Heart of Jesus or Mother of God
Holy Days of Obligation
       10:30 am and 7 pm
Vespers            
5:30 am  Saturdays -Chapel
                                                                                                          +++  
Coffee and sweets
are available following the 8:30 am and 10:30 am Divine Liturgy in the Fellowship Room. All guests and parishioners are invited. Historic collection of Ukrainian art work, embroidery and pysanky can be seen.  The history of the parish religious order in pictures are displayed on the fellowship wall, dating back to 1927…  
                              +++
Please, consider reading the Epistle during the 8:30 AM Div. Liturgy. When you decide to do the reading, please, coordinate it either with Fr. Serafym or with Gerry Ukrainetz.
________________________________________________________________________________
April 20: Sunday – Resurrection of our Lord Jesus Christ
- 7:00 a.m. – Resurrection Matins, Divine Liturgy, Myrovannia – Anointing
with Holy Oil, Blessing of Paschal Food
- 10:30 a.m. – Divine Liturgy, Anointing with Holy Oil, Blessing of Paschal
April 21: Easter Monday
- 9:30 am – Resurrection Matins and Divine Liturgy.
April 22
: Easter Tuesday
- 9:30am. – Resurrection Matins and Divine Liturgy.
April 26: Saturday
- 9:00 am Divine Liturgy followed by UCWLC Meeting in the Fellowship Room.
- 2:00 pm – Graveside Services at Gardens of Gethsemani.
April 27: Sunday 
- 12:00 p.m. – "Sviachene" Parish Easter Dinner in the Parish Hall. We encourage all Parishioners to participate as one family in this event.
 ============================================================================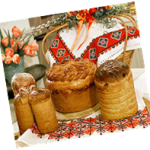 A link to  Easter traditions http://eastertraditions.wikispaces.com/Ukraine
—————————————————————————————————————
April 28: Monday  7:00pm  Parish Council Meeting
Boardroom       St Marys Ukrainian Catholic Centre 3150 Ash Street
________________________________________________________________________________
Our parish is once again participating in the annual RELAY FOR LIFE cancer fundraiser.  We are looking for people who would like to join our church team.  This is an excellent opportunity to support the parish and the community by walking/running a lap, getting to know your fellow parishioners and to raise funds for a very worthy cause. The money raised goes directly to provide INFO about cancer care and treatment, locally; to offer SUPPORT to people living with cancer; and to help PREVENT cancer by educating school children and adults about the importance of living a healthy lifestyle.
If you are interested in joining the team, please contact Barbara at St Mary's Church office by Mar 1-        604-879–5830 
___________________________________________________________
Eastern Catholic Church 
http://www.youtube.com/watch?v=xJaI8PXkA0M                 Traditions of the Eastern Catholic Church