Welcome to the Protection of the Blessed Virgin Mary Ukrainian Catholic Parish in Vancouver, BC.  Known as St. Mary's, ours is a  church in the Byzantine Rite. The Parish is part of the Ukrainian Catholic Eparchy of New Westminster.  
Administrator: Father Serafym Grygoruk, OSBM
Father Marcos Zubyk OSBM
Bishop Emeritus Most Rev. Severian Yakymyshyn OSBM
                        Divine Liturgy     560 west 14th ave Vancouver BC
Sundays  8:30am and 10:30am        Daily  7:30am  (Chapel) (Monday-Saturday)       Holy Days  10:30am and 7:00pm
Coffee and sweets are available following the 8:30 am and 10:30 am Divine Liturgy in the Fellowship Room. All guests and parishioners are invited. Historic collection of Ukrainian art work, embroidery and pysanky can be seen. The history of the parish religious order in pictures are displayed on the fellowship wall, dating back to 1927…
---
Monday, February 22, 2016   7 pm – 8pm   Parish Council Meeting
Board Room  ST Mary's Auditorium – If you would like to receive the meeting minutes please register on the contact page of the web site
As individuals and as a parish, we are called upon to ensure that the religious, educational and charitable efforts may continue.  Life challenges us to share our gifts and our talents with the entire community. Putting ourselves at the service of others and not holding back is how we live our faith.   These vital efforts can only continue with your support. You can help in determining the works of services and ministries in our parish.  In essence, you can enable our parish to reach out to build the kingdom of Christ.     If you would like to volunteer your time and talents; contact us at 604-879-5830 or office@stmarysbc.com.  Follow us on Facebook – St Mary's Ukrainian Catholic Church Vancouver.
---
Sunday, February 14, 2015   Valentine Breakfast Fundraiser
After both  8:30 am and 10:30 am Liturgies
St Mary's Ukrainian Catholic Centre  ( 3150 Ash St Vancouver BC)
Cost: $8:00     Children under 6 free
---
Stewardship (Koinonia) – the faithful build the community
It is not a new program or a single action or a number of actions.  It is the personal conversion and renewal of one's heart and mind, i.e. living the Eucharist day by day with gratitude and love in an entire life.
Stewardship of time involves first our time spent with God in prayer and sacrament, then the time spent in service to others inspired and guided by the Holy Spirit. Stewardship of talent is sharing God's unique gifts bestowed on us. It is our loving response to God's appointed calling to do HIS will, to proclaim the Good News of Salvation, to heal the afflicted, to feed the hungry, to care for one another, to give full life just as Jesus did. Stewardship of treasure is taking care of and sharing our blessings, i.e. in what we do with our blessings from the heart as a faith response. Stewardship is giving of the first fruits of our time, talent and treasure.
Consider the opportunities for volunteering in our Parish community.  Volunteer forms are at the back of the church. Check your areas of interest. Return the form to the parish office or drop it in the collection box. We will contact you shortly.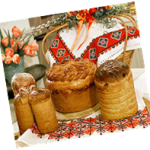 "EASTER'BAKE'SALE"""!!!!!!!!!! Saturday,March 19,2016"" 11:00am-2:00pm
Listed are the dates scheduled to  prepare  for  the Bake  Sale.
Anyone interested in  helping,  please come  starting at 9:00 AM unless otherwise stated.
 Wednesday,February 17,24 Making Cabbage Rolls
Thursday,February18,25 PackagingCabbageRolls
Monday,February22,29,March 7   Making Paska
Wednesday,March 2 -Beets and  Relish
Wednesday,March 9        Making     Borscht
---
Sunday February 14th, 2015   Renewal of Marriage Vows Blessing
At the end of both Liturgies couples can receive a blessing. To register please contact the Father Serafym.
"A renewal of wedding vows blessing can be a meaningful, touching, revivifying event for you and your children, family and friends. As a married couple, it is a time to pause and reflect on where you have been and where you are going. It is also a wonderful example to set for your children and grandchildren. Can you imagine a more beautiful scene than children watching their parents joining hands and hearts as they affirm the magnitude and strength of their enduring love? What greater life/love lesson?
---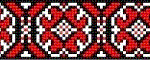 Monday, January 25 6 pm    Ukrainian Embroidery Classes
St Mary's Ukrainian Fellowship Room.    560 W 14th Ave Vancouver BC        All levels are welcome.
Monday, January 25 Ukrainian school for adults: beginners, intermediate and advanced –
resuming classes  at St. Mary's. Classes begin at 6:45 pm in the Church Classrooms. All are welcome.
Call Susan for details 604-733-3756.
---
Magazine-style programme  Kontakt links Ukrainians throughout North America with Ukraine and with each other.
Check your local service provider for channels
Omni Television Channel   –  Sundays  7am  Tuesday  9am
Forum TV   – Sundays  8 am   Tuesdays  10am
---
 The Protection of the Blessed Virgin Mary Parish welcomes all guests,friends, visiting relatives and Parishioners in celebrating the Divine Liturgy together. May our Lord, through the intercession of the Protectress, the  Blessed Mother of God, bless you and your family!