Welcome to the Protection of the Blessed Virgin Mary Ukrainian Catholic Parish in Vancouver, BC.  Known as St. Mary's, ours is a  church in the Byzantine Rite. The Parish is part of the Ukrainian Catholic Eparchy of New Westminster  and is administered by  Father Serafym Grygoruk,  OSBM
Assistant Adminstrator :Father Marcos Zubyk OSBM Bishop Emeritus :           Most Rev. Severian Yakymyshyn OSBM
Divine Liturgy  (Catholic Mass)    550 west 14th ave Vancouver BC
Sundays    8:30 am   English   10:30 am Ukrainian                   Holy Days  10:30am and 7 pm
Daily                8:15 am                                                                  First Fridays   8:15 am
---
Coffee and sweets
are available following the 8:30 am and 10:30 am Divine Liturgy in the Fellowship Room. All guests and parishioners are invited. Historic collection of Ukrainian art work, embroidery and pysanky can be seen.  The history of the parish religious order in pictures are displayed on the fellowship wall, dating back to 1927…          
---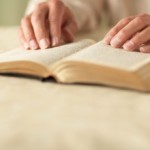 Please, consider reading the Epistle during the 8:30 AM Div. Liturgy. When you decide to do the reading, please, coordinate it either with Fr. Serafym or with Gerry Ukrainetz.  We are also looking for volunteer ushers to assist with welcoming people at the 10:30am Liturgy.  A few minutes of your time would be appreciated.
July 13:     Sixth Sunday after Pentecost;   St. Elijah
John 17:1-13
---
Missionary Spirit
I am not a missionary. I don't want to stand on a street corner or knock on doors, I don't want to go into the jungles and forests and spread the word of God.  I don't want to stand there holding a Bible in my hand screaming out like some possessed idiot.  I don't want to go to Africa, Asia or anywhere, I just want to be myself.
Well who am I?
---
A reminder to all Parish Organizations: Please inform the office in writing, the dates of all activities of your organization for the rest of 2014 and for 2015 (at least until June) as the office agenda book needs to be up‐dated.
Access news, information, bulletins and events anytime on St. Mary's Ukrainian Catholic Parish website: http://www.stmarysbc.com/
St Mary's Ukrainian Catholic Church Vancouver is  on Facebook with links to other parishes around the world.

---
The Protection of the Blessed Virgin Mary Parish welcomes all guests,friends, visiting relatives and Parishioners in celebrating this Divine Liturgy together. May our Lord, through the intercession of the Protectress, the  BlessedMother of God, bless you and your family!
---
Eastern Catholic Church