Welcome to the Protection of the Blessed Virgin Mary Ukrainian Catholic Parish in Vancouver, BC.  Known as St. Mary's, ours is a  church in the Byzantine Rite. The Parish is part of the Ukrainian Catholic Eparchy of New Westminster  and is administered by  Father Serafym Grygoruk,  O.S.B.M.
560 West 14th Ave    Vancouver BC Canada.                                               
                                                         +++
Divine Liturgy Schedule   (Catholic Mass)
Sundays
           8:30 am  (partially sung – English and Ukrainian)                         10:30 am (sung – Ukrainian)
Weekdays      
 7:30 am Matins
8:15 am Divine Liturgy    
First Friday    
  8:15 am  Divine Liturgy                            followed  by Moleben  to the Sacred Heart of Jesus or Mother of God
Holy Days of Obligation
       10 am and 7 pm                                                                                  +++
  Coffee and sweets are available
 following the 8:30 am and 10:30 am Divine
Liturgy in the Fellowship Room. All guests and parishioners are invited. Historic collection of Ukrainian art work, embroidery and pysanky can be seen.  The history of the parish religious order in pictures are displayed on the fellowship wall, dating back to 1927… This month we are featuring the
Ukrainian Catholic Youth Club
in pictures.
                                   +++
 Ukrainian Food Fair and Bazaar
Thank you to everyone who helped and check the Vancouver Courier article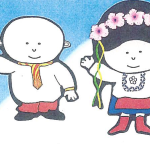 http://www.vancourier.com/community/city-living-crowds-come-for-food-and-fun-at-ukrainian-fair-1.718743