Welcome to the Protection of the Blessed Virgin Mary Ukrainian Catholic Parish in Vancouver, BC.  Known as St. Mary's, ours is a  church in the Byzantine Rite. The Parish is part of the Ukrainian Catholic Eparchy of New Westminster.  
Administrator: Father Serafym Grygoruk, OSBM
Father Marcos Zubyk OSBM
Bishop Emeritus Most Rev. Severian Yakymyshyn OSBM
              Divine Liturgy  (Catholic Mass)    550 west 14th ave Vancouver BC
Sundays    8:30 am   English   10:30 am Ukrainian                   Holy Days  10:30am and 7 pm
Daily                7:30 am                                                                  First Fridays   7:30 am
Coffee and sweets are available following the 8:30 am and 10:30 am Divine Liturgy in the Fellowship Room. All guests and parishioners are invited. Historic collection of Ukrainian art work, embroidery and pysanky can be seen. The history of the parish religious order in pictures are displayed on the fellowship wall, dating back to 1927…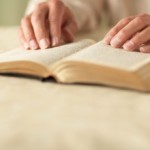 Sunday, October 26
Twentieth Sunday after Pentecost, Tone 3; The Holy and Glorious Great-Martyr Demetrius, from Whose Tomb Myrrh Streams Forth (285-310); and the Commemoration of the Great and Terrible Earthquake at Constantinople of 741 AD;
Galatians 1:11-19
;
2 Timothy 2:1-10
;
Luke 7:11-16
;
John 15:17-16:2
Daily readings can be found here                 
 http://www.royaldoors.net/daily-readings/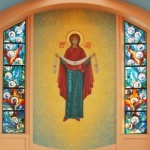 Saturday November 29, 2014
Tours of our Church – come see the inside of this beautiful and historic church.  The architect who designed the church was Julian K. Jastremsky, A.I.A.       
The Protection of the Blessed Virgin Mary Parish welcomes all guests,friends, visiting relatives and Parishioners in celebrating the Divine Liturgy together. May our Lord, through the intercession of the Protectress, the  Blessed Mother of God, bless you and your family!
Everybody is welcome to participate in our services. People can pray with us and reflect on the Word of God. As the Holy Communion is the central part of our Church. We require that people do not receive the Holy Communion, unless they meet specific conditions.
---
Eastern Catholic Church