Благодійний концерт від Комітету Допомоги Україні
  10/12/2017
1:00 pm – 4:00 pm
Комітет "Допомоги Україні" при осередку УНО, м. Монтреаль та підтримки Конгресу Українців в Канаді відділу в м. Ванкувері, запрошує на благодійний Концерт, "РАЗОМ З УКРАЇНОЮ"10- грудня, 2017 року, в Кафедральному Соборі Св. Тройці за адресою 154-East 10th Ave. Vancouver, BC, V57 1Z4. ПОЧАТОК 13:00.
За участю Прот. о. Володимира Кушніра, настоятеля Кафедрального Собору Св. Софії м. Монтреаль
В програмі: духовні, ліричні, патріотичні та естрадні пісні із нових альбомів "Служити народу- Служити Богу", "Свій Слід" і "Вишиванка життя".
ПІСЛЯ КОНЦЕРТУ: КАВА ІЗ СОЛОДКИМ ТА РОДИННЕ СПІЛКУВАННЯ.
Кошти призначаються на закупівлю необхідний ліків та іншого медичного приладдя для пораненим воїнам та допомога сиротинському Будинку "Сонечко" в Львівській області
Вхід при до залі за добровільними пожертвами.
Запрошуємо українську громаду м. Ванкуверу підтримати цей благодійний концерт.
    Saturday, December 16, 2017
The Ukrainian Eparchial School "Ridna Skola" will have a Christmas
Concert on Saturday, December 16, 2017, at 11:00 AM in our Fellowship Room. The tickets: adult – $15; for children – $5; for children under 6 year old – free. The money will go for the needs of the school. Phones: 604-704-2801; 778-387-7071; or email: ridslovo@yahoo.com.
---
Sunday, December 17,2017      2pm  Ukrainian Catholic Centre
Ukrainian Christmas Carol Festival
3150 Ash Street   Vancouver BC   tickets at the door
'This is an annual event celebrating the joy of Christmas music Ukrainian style.
Svitanok Chorus of the Svitanok Performing Arts Society of British Columbia is an officially registered organization in Victoria, BC. It is also a member of the BC Choral Federation. The director, Ann Kvitka Kozak founded the mixed chorus in 1989. It was composed of members from her Voloshky Singers of Vancouver, BC (1963-1985 – 5 recordings) and participants from Vancouver's original musical stage production, Vinkopletennia, a Ukrainian traditional Bridal Shower (1989-1995 – tape, video, book) for which, the musical won the prestigious Kostash Award for Film and Video Arts in Canada.  Svitanok Chorus  placed first in the Traditional Music category in the CBC Radio Competition representing British Columbia.
---
MALANKA 2018 – SATURDAY, JANUARY 13TH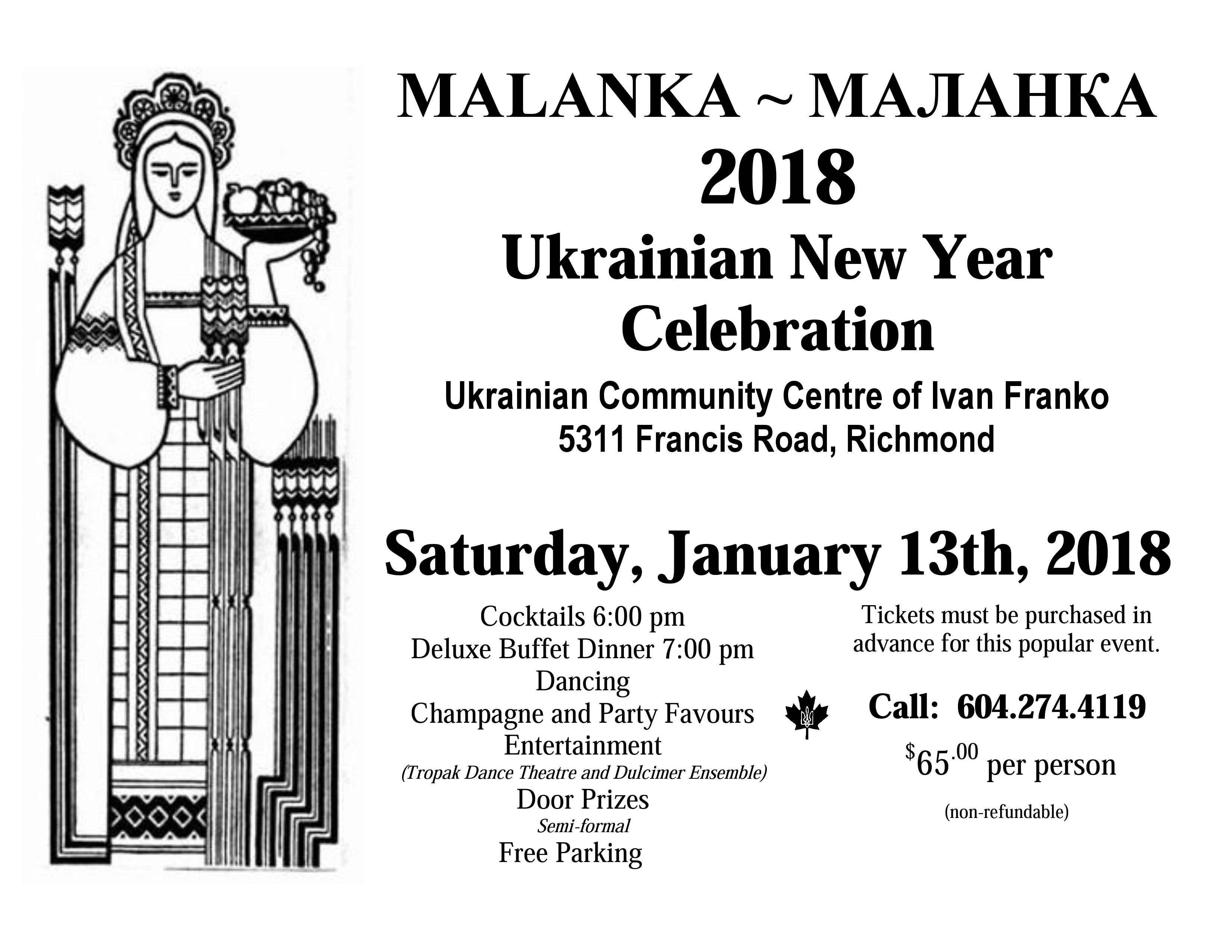 ---
---
If you have any events you would like us to publish please email us at Ukrainiancatholicvancouver@gmail.com